About us!
Hi and welcome to my lil Shoppe,
Some of you may know me, others may not. My name is Terrie and I am the witch behind the scenes at Whispers of the Dark Moon. I'm the one making magic happen. I am also the one who has a high standard on what magic should be and how we should present it as a community in the spiritual and magical world. I also teach others those things everyday! I am a teacher to a bunch of lovely people who want to learn witchcraft and what it is we do.. or even why we do it. I run classes every Saturday and they are always open to someone new. I have been doing these things for as long as I can remember and that is a long time ! I wont say how long because I've reach the age where its no longer polite to ask a lady her age haha.
That being said, I would like to tell you about why the things in this lil shoppe are special! You may or may not have ever came across a shoppe like this before. Almost everything in this shoppe is handmade. Even a lot of the crystals are hand carved! Almost everything except the crystals are handmade by myself. Meaning you never have to worry about if its the real deal... IT IS. Next, every single crystal you see is fully cleansed, prepped and ready for any purpose you may need to place.. as well as many have been blessed. I didn't just do the above but I have done these under the moon ! Not just any moon but only the light of the full, new or dark moon! and furthermore I haven't told which ones because again being who I am I want you to choose these items based on what calls to you the most! Also any altar art you see is 100% done by my hands personally, I am more than a witch, I am also an Artist.
All oils herbal mix's soaps and etc are hand made 100% nothing and I mean nothing of these oils has every been on any market until now. These are not the mass produced items you see normally online, which is why you will always find my shoppe small but useful. These shoppes with thousands of items can not possibly be making these items genuinely don't trust hype and fancy words behind them. We as a community need to stick together and spread truth .. this is by no means meaning that bigger shoppes are not genuine. It merely means follow intuition where it truly leads you. And trust it ... even if its not here. Alway listen to it.
All that being said, I would like to welcome you to my little cabinet of genuine witchcraft where things are different and things are never mass produced.. 
                                                                                          Blessings,
Whispers of The Dark Moon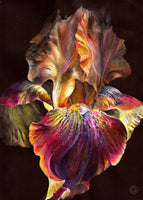 Magic, like technology, is a tool.
Mercedes Lackey
Announcement !!
Etsy!
I'm proud to announce that I will be opening a Etsy store very soon for many of your needs!!
hope to see you there soon!!