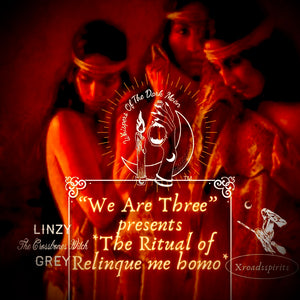 In response to the immense amount of women/men requesting an Very Powerful Ritual which will separate a target from their "MAN" We Are pleased to present to you the We are Three Ritual of (Translation) •Leave My Man •
This Ritual is being done By Myself, Linzy and a member of The Coven of Whispers, 3 casters, 3 rituals, cast at exactly the same time and for the same purpose. The rituals will be unique to each practitioners unique methods of Casting. Which means you will literally be receiving 3 group workings with 3 types of ancient magick. Cast by the power of three. As "We Are Three".
This ritual will be working with our own special entities of a Darker nature and we will be casting with deep intentions of separation as if it was oour selves . This working will be working with 3 different entities to complete this working in 3 ways...
1.. Whispers: u will see
2.. drako : u will see
3.. Coven: u will see
Note:This is not the only types of mágick each practitioner can provide. But in this ritual this is some of the methods we will use. 
**No petition needed** 
Once you have made your payment to the spirits contact me via Instagram only @whispers_of_the_dark_moon
Must provide info such as: Name, DOB, Photo. And if there is no name or dob available etc please provide only the photo. Or vice versa. 
** This is a very powerful Group Ritual. We don't play games. We do the working as required and with all knowledge power and strength that is possible. Knowing this, the Ritual will book very fast. I highly suggest you book asap to guarantee your placement in this Ritual**