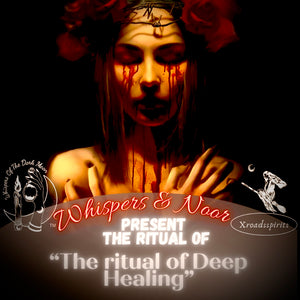 Whispers & Noor present 
****A very unique service I have been blessed to be able to offer you! It took me years to form a covens I trust, Something rare to find now a days.. People are forgetting the old ways more and more every single day ****
We each have our unique abilities and our unique are of specialty.
In this Ritual we will be casting deep healing with your participation. 
You will need to be seated calm in a good environment, where you can listen to an audio that will be sent to you through YouTube. This audio will most likely be a meditative audio which will assist in bringing you to a meditative state you will remain in this state for minimum of 1 hour. We suggest you do this at night before you sleep, we also work your ritual at night and the timing would work well with your ritual.
We will be using our unique gifts and forms of healing to bring deep .... Sincere... True... Heartfelt... Healing.
We will work this ritual as if it was for our own family. Because healing should always be done with love. 
This Ritual will be cast with Whispers & Noor. 
To book please contact me via Instagram @whispers_of_the_dark_moon with photos names dob and receipt.
 Note: I made this ritual. There is no other like it. Anywhere, only with me. There are many who try and "attempt" to copy my rituals even down to the names, the quotes, the colors. But know this.... Nobody other than me, knows how to do my handmade personal "occult" rituals. Nobody. Not even my coven members know my personal "occult" Rituals (occult=hidden). Not even my students. These are my private, personal workings. And there is no one who can replicate them at all. Anywhere. And it's extremely dangerous to attempt to copy Rituals which you do not know anything about.