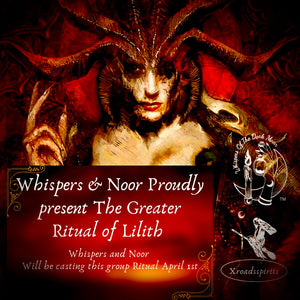 Whispers and Noor of We are Three are proud to present to you "The Great Ritual of Lilith" We will be working with all Fiery Dark aspects of Lilith! And this Ritual will be open to any need as long as you are not requesting Death. We will be doing this ritual with literal offerings of the flesh! Through Whispers a high priestess of the temple of a Lilith who will invoke her within her own body for this ritual..
We will each have our unique job in this ritual … this is a true coven ritual being offered.. 
Even the offering of flesh is our own Noor .. she will offer herself voluntarily and she will present her energy willingly.
This entire Ritual will be done with complexity, timing, offerings, invoking, and signs ..
THIS IS BEING CARRIED OUT BY A HIGH PRIESTESS OF THE TEMPLE OF LILITH (Whispers) AND A DEDICATED DAUGHTER OF LILITH (Noor)  This is Powerful 
To book, must book on website and contact @whispers_ of_the_dark_moon with photos names dob and receipt via Instagram. 


🔐
Note: I do not teach my rituals to anyone. If anyone claims they know them, or anything associated to them, they are lying to you. I personally make these rituals. There is no others like them. Anywhere, only here, with me. There are many who try and attempt to copy my rituals even down to the names, the quotes, the colors. But know this.... Nobody other than me, knows how to do my personal "occult" rituals. Nobody. Not even my coven members know my personal "occult" Rituals (occult=hidden). You can only get my hands, mind, and knowledge, through me. Meaning even my We are Three covens hold their own ritual privacy as well. Not even my students or covens know my personal rituals. These are my private, personal workings. And there is no one who can replicate them at all. Or the We are Three Rituals for that matter, Anywhere. It's extremely dangerous to attempt to copy Rituals which you do not know anything about. Do not attempt to copy.