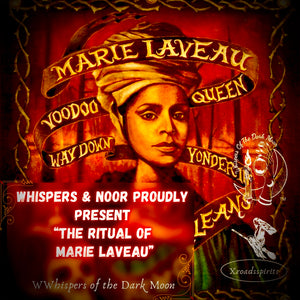 Who is the Queen of Voodoo? 
Marie Laveau!! 
Let's meet her shall we! 
Marie Laveau (1794?–1881) and Marie Laveau Glapion(1827–1877) were the most famous voodoo queens, mother and daughter by the same name, reigned over New Orleans in the late 19th century, Their lives have become legend.
Marie Laveau I reputedly was born in New Orleans in 1794, the illegitimate daughter of Charles Laveau and Margeurite Carcantel. A mulatto of mixed black, white and Indian race, she was from birth a free woman of color. As a young woman, she was tall and statuesque, with curling black hair, flashing black eyes, reddish skin and "good" features, meaning more white than Negroid. On August 4, 1819 she married Jacques Paris, a quadroon (three-fourths white, one-fourth black) free man of color from Saint-Domingue (now Haiti). They lived in a house in the 1900 block of North Rampart Street that had been given to them by Charles Laveau as part of his daughter's dowry.
Not long after the marriage, Paris disappeared, perhaps returning to his homeland. Marie began calling herself the Widow Paris, and supported herself by working as a hairdresser to the wealthy white and Creole women of New Orleans. Her clients confided their most intimate secrets to Marie, about their husbands, their lovers, their estates, their husbands' mistresses, their business affairs, their fears of insanity and of anyone discovering a strain of Negro blood in their ancestry. At this time, Marie also was likely involved in voodoo activities, for she took careful note of these confessions, and later used them to strengthen her powers as voodoo queen. About five years after Paris's disappearance, his death was reported, but there is no certification of burial.
Around 1826, Marie became the lover of Louis Christophe Duminy de Glapion, another quadroon from Saint- Domingue, who lived with her on North Rampart until his death in June 1855. They never married, but they produced 15 children. After establishing her relationship with Duminy de Glapion, Marie gave up hairdressing and began to devote all her energies to becoming the supreme voodoo queen of New Orleans. oh she did it. 
She is well renown for her help in many many many situations to do with love! And successful. Always successful. She was almost always successful in everyhing she did ... Luck, money, gambling, love, lust, curses and everything in between. And we will be working with the Queen herself. 
Whispers and Noor are proud to present to you The ritual of Marie Laveau •Love work• where we will be working with Marie Laveau for your love situation. Whispers and Noor will give there all for you.   
This is a private Ritual! NOT GROUP. 
We will require names dob and photo along with a screenshot of your payment via Instagram @whispers_of_the_dark_moon
This Ritual has a couple things to pick from 
A ... Anything goes 
B ... No harm to none
1 ... Return a lover
2 ... Fix a broken relationship
3 ... Bring life back to a relationship
You may pick A or B and 1, 2 or 3. But if you need more than one of the 1-3 you must book another place. 
This ritual is aimed for Love... And Love is where we are going with this. You may include a 3 sentence petition if you choose however it is not necessary for this ritual. 
🔒Please Note: I do not teach my rituals to anyone. If anyone claims they know them, or anything associated to them, they are lying to you. I personally make these rituals. There is no others like them. Anywhere, only here, with me. There are many who try and attempt to copy my rituals even down to the names, the quotes, the colors. But know this.... Nobody other than me, knows how to do my personal "occult" rituals. Nobody. Not even my coven members know my personal "occult" Rituals (occult=hidden). You can only get my hands, mind, and knowledge, through me. Meaning even my We are Three covens hold their own ritual privacy as well. Not even my students or covens know my personal rituals. These are my private, personal workings. And there is no one who can replicate them at all. Or the Whispers & Noor Rituals for that matter, Anywhere. It's extremely dangerous to attempt to copy Rituals which you do not know anything about. Do not attempt to copy. 
This is a Whispers & Noor ritual and as such impossible for anyone to know. 😉. 
✨🔒✨