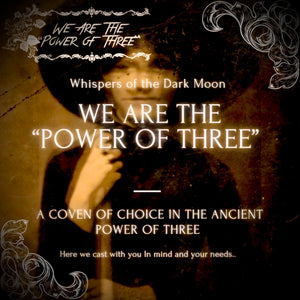 We are the "Power of Three" Coven is offering rituals and psychic readings through the power of three.. we have been offering these services publically since 2019! 
And the coven mother has been casting 35+ years professionally! 
what makes us unique?
We provide a tailored experience with varying magical practices depending on your unique needs !
I and two other of the coven (which can be chosen by you) will cast for you with the ancient Power of Three! 
with my people! Imagine !!! My Coven Babies !!  
To book this you must have a consult!!!
please contact me via instagram @whispers_of_the_dark_moon  when you have booked a consult on the cosults page with name dob and photo! 


 _________________________________
Note: I made this ritual. There is no other like it. Anywhere, only here. There are many who try and attempt to copy my rituals even down to the names, the quotes, the colors. But know this.... Nobody other than me, knows how to do my handmade personal "occult" rituals. Nobody. Not even my coven members know my personal "occult" Rituals (occult=hidden). Not even my students. These are my private, personal workings. And there is no one who can replicate them at all. Anywhere. And it's extremely dangerous to attempt to copy Rituals which you do not know anything about.