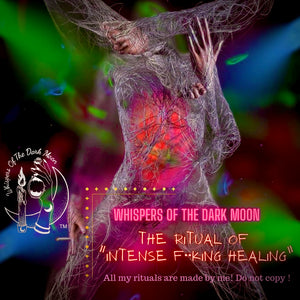 This Ritual is so Intense and custom there is nothing else like it! I take time to truly evaluate your spiritual and physical needs and I move into this ritual with deep healing intense knowledge of healing in many forms and there may be combined forms of healing from many practices .. This again is nothing like any other ritual of healing you have ever seen! 
This is for those who are ready for Intense F••king Healing, reach down in you chest and grab your heart and hand stitch every single tear in it ! The kind that heals inside and outside .. bio healing may be used as well as a form to help the physical body and energy manipulation.. 
This sh•t is no joke! I make u intensely custom and this is something I have NEVER OFFERED BEFORE,. 



To book please contact me via instagram after payment with receipt name dob and photo!!! @whispers_of_the_dark_moon 
  Note: I made this ritual. There is no other like it. Anywhere, only here. There are many who try and attempt to copy my rituals even down to the names, the quotes, the colors. But know this.... Nobody other than me, knows how to do my handmade personal "occult" rituals. Nobody. Not even my coven members know my personal "occult" Rituals (occult=hidden). However, we are three rituals are created individually. Meaning they themselves hold their own ritual privacy as well. But not even my students know my personal rituals. These are my private, personal workings. And there is no one who can replicate them at all. Or the We are Three Rituals, Anywhere. It's extremely dangerous to attempt to copy Rituals which you do not know anything about