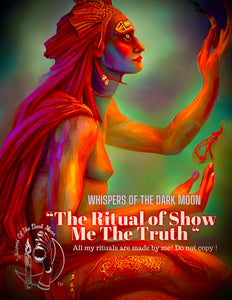 I am proud to offer The Ritual of Show me the Truth
This ritual will be working with Djinn, and I will be casting hard truths with self realization of these truths on target meaning they themselves will see their own truths and lies.  This will bring truth to you and the target and those around the target. Think of this ritual as… everyone will know who they really are including them. This is perfect for a narcissist or someone who believes they do no wrong. I've worked this personally before. and I love how this can be worked with even in court situations where Truth is needed.
But, I absolutely love how this works in love situations! Where's your target refuses to see their wrong doing. 😉 time to change that. 
This working is with Madrid Djinn and offering will be made in your name.  
Note:This is not the only type of mágick I can provide. But in this ritual this is some of the methods we will use. Please do not copy.
There are 2 forms of this ritual you may choose.
A. Dirty.. By any means possible.. and without concern for how this manifests. This happens how it happens. period. 
Or 
B. By harm to none. And this may manifest in divine timing. 
I will be casting this straight out as said above.
Once you have made your payment contact me via Instagram only @whispers_of_the_dark_moon
Must provide info such as: Name, DOB, Photo. And if there is no name or dob available etc please provide only the photo. Or vice versa. 
** This is a very powerful Ritual. I don't play games. I do the working as required and with all knowledge power and strength that is possible. Knowing this, the Ritual always  books very fast. ****