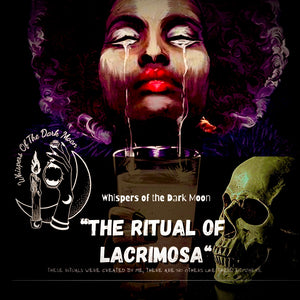 This Ritual does many things but the most amazing of them is that it takes the tears you have cried and may be crying and give them real meaning and POWER..
let's go over this …
Remorse 
Sadness 
heart wrenching
depression
dismay 
Anguish 
Sorrow
The feelings you have in the form u were harmed or hurt
Crushed
Heartsick 
disappointment
Joyless 
Regret 
And In this Ritual I will be working with "He who shall not be named ", "The forgotten demon", "Those of The Ancients".
But aside from the very powerful ancient beings I will also be working with my coven!!! 
We will be working with the number 3 and that's how many times this will be cast … meaning 3 members of my coven !! 
This will likely be cast  only upon request !
we will all be aiming at the target with all our ability 
This is a ritual to make someone suffer ur tears pain and heartbreak like you did or are but: Way F•••••• worse.
all member will be working with their own entities and forms of magic this will be big big.
to Book: contact Me only with names dob and photos via instagram @whispers_of_the_dark_moon
This has limited places!!! Limited time to book!! And limited availability!!!
This will be worked two ways 
choices!! Pick 1 …. 
1 love situations (all including breakups/ makeups etc)
2 a curse for someone who harmed you. 



Note: I made this ritual. There is no other like it. Anywhere, only here. There are many who try and attempt to copy my rituals even down to the names, the quotes, the colors. But know this.... Nobody other than me, knows how to do my handmade personal "occult" rituals. Nobody. Not even my coven members know my personal "occult" Rituals (occult=hidden). However, we are three rituals are created individually. Meaning they themselves hold their own ritual privacy as well. But not even my students know my personal rituals. These are my private, personal workings. And there is no one who can replicate them at all. Or the We are Three Rituals, Anywhere. It's extremely dangerous to attempt to copy Rituals which you do not know anything about.