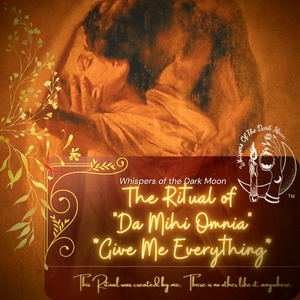 This ritual does exactly what it says..
GIVE ME EVERYTHING..
This is not a typical love ritual, This is a sugar daddy/Sugar Mama.. or just sugar in general 😏 This is for those who want to bring the Money gifts and luxury into a relationship. 
This is sweet sweet luxury ... 
This is for those who are have been asking me for this since some time ...
This ritual also brings forth feelings of addiction into the mix. Which also ensures financial pleasures to be shared in your direction 
This is especially beneficial for those
1.. seeking a sugar
2.. with a target
3.. needing security
4.. those who work as dancers
5.. those who work..😏
6.. anyone wanting financial gain in exchange for attention and time. 
*This ritual is not for the judging eye. 
*****
I will work with Mammon and Lilith to achieve your goal. 
And may include Pomba Gira for certain ppl if called..
Please contact via Instagram with purchase, photos, names, dob @whispers_of_the_dark_moon
⛧Note: I made this ritual. There is no other like it. Anywhere, only here. There are many who try and attempt to copy my rituals even down to the names, the quotes, the colors. But know this.... Nobody other than me, knows how to do my handmade personal "occult" rituals. Nobody. Not even my coven members know my personal "occult" Rituals (occult=hidden). Not even my students. These are my private, personal workings. And there is no one who can replicate them at all. Anywhere. And it's extremely dangerous to attempt to copy Rituals which you do not know anything about.