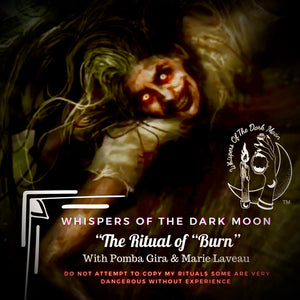 Time to Burn B****s 
A Poison Tree 
by William Blake
I was angry with my friend;
I told my wrath, my wrath did end.
I was angry with my foe: I told it not, my wrath did grow.
And I waterd it in fears, Night & morning with my tears:
And I sunned it with smiles, And with soft deceitful wiles.
And it grew both day and night. Till it bore an apple bright.
And my foe beheld it shine, And he knew that it was mine.
And into my garden stole, When the night had veild the pole;
In the morning glad I see; My foe outstretched beneath the tree.
••••••••••••••••••
Time to Burn those who have burned us!!!
Let's talk about our friend in this… 
Lucifuge Rofocale, or simply Lucifuge, is the Prime Minister of Hell and one of Lucifer's most faithful supporters. He is also the leader of the Six Great Officers. In some modern left-hand path belief systems, the demon Lucifuge is said to be the ruler of the qliphoth Satariel. This belief originally comes from a translation of an ancient Hebrew manuscript made by Eliphas Levi and has since then gained acceptance. 


needed - Names Dob Photos (if possible) and a small description of why you want this (what happened) … a single small paragraph 😳 do not send a large description or it can't be used .
via instagram @whispers_of_the_dark_moon
DO NOT COPY MY RITUALS OR SPELLS YOU COULD HARM YOURSELF OR OTHERS. Think before you act.