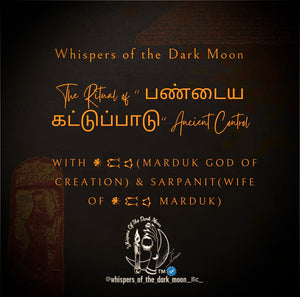 This is not to be confused with any other ritual I have.
 Marduk
"O Marduk, thou art our avenger!We give thee sovereignty over the whole world.Sit thou down in might; be exalted in thy command.Thy weapon shall never lose its power; it shall crush thy foe.O Lord, spare the life of him that putteth his trust in thee,But as for the god who began the rebellion, pour out his life."Then set they in their midst a garment,And unto Marduk, their first-born, they spake:"May thy fate, O Lord, be supreme among the gods,To destroy and to create; speak thou the word, and thy command shall be fulfilled. — Tablet 4


This is a control Ritual with no other purpose than to control your target. This ritual will be cast for you in the ancient manners.. With Marduk and all his 50 names and his wife Sarpanit .. he was worshipped since around the third millennium B.C.E. meaning -Ancient 
Meaning this is serious and powerful… know what u want… and ask clearly. 
you will provide a action you want to happen very clean and a small paragraph with only 3 - 5 sentences at most .. and it must be a singular action … unless u book more than a single petition request 1 single action. 
you may choose
1. by any means 
2. no harm 
this is a very large group ritual. can not cancel once booked .. 
DO NOT ATTEMPT TO COPY THIS RITUAL. IT COULD RESULT IN BACKFIRE OR HARM TO SELF OR OTHERS! ANCIENT GODS ARE NOT TO BE PLAYED WITH. You have been warned.