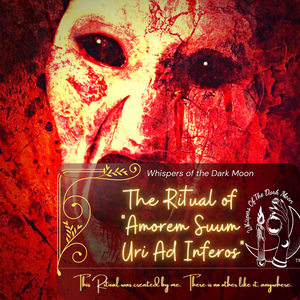 This rituals name translates to...
Burn their Love to hell....
This ritual is the ultimate ritual to destroy love to fragments ripping apart hearts, tearing out the soul ties and burning them in the flames of the infernal right in front of their eyes...... 
This IS NOT A TYPICAL BREAKUP SPELL no no no, this is..... MORE. 
I WILL BE WORKING WITH 6 DEMONS renowned for their masterful work at possession, ruin, lies, destruction of both flesh and soul, they are not going to be mentioned here, because by mentioning their names .. you could accidently summon them. YOUR WELCOME. 
There will be protection laid in place for my clients so nothing even remotely touches them from this ritual. You will find that I will always have you in mind 1st. As well as before casting I will read if this will cause you any harm. And if I receive a yes I will tell you. Otherwise you will receive your ritual photos and videos as normal. 
This does not harm you Target of interest. But!!!! Does harm your target of destruction. Which means... He/she will get theirs. Trust that. 
Options.
1. No physical harm.
2. Anything Goes. 
To book please contact me via Instagram @whispers_of_the_dark_moon with names, birthdays, photos and receipts. 
Do not attempt this kind of ritual at home. This is a Master Ritual.. and is very Advanced Magick.
 Note: I made this ritual. There is no other like it. Anywhere, only here. There are many who try and attempt to copy my rituals even down to the names, the quotes, the colors. But know this.... Nobody other than me, knows how to do my handmade personal "occult" rituals. Nobody. Not even my coven members know my personal "occult" Rituals (occult=hidden). However, we are three rituals are created individually. Meaning they themselves hold their own ritual privacy as well. But not even my students know my personal rituals. These are my private, personal workings. And there is no one who can replicate them at all. Or the We are Three Rituals, Anywhere. It's extremely dangerous to attempt to copy Rituals which you do not know anything about.