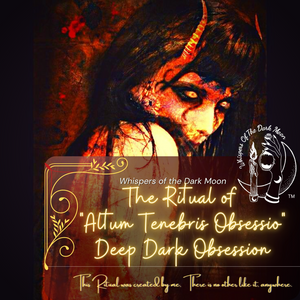 The Ritual of "Altum tenebris Obsessio" is pure unadulterated dark dirty OBSESSION 
The kind that keeps you on someone's mind day and night, the kind that makes you think dirty things, and touch yourself, the kind of obsession that makes you feel NEED.. that kind of obsession that makes you pull your own hair out.. food loses taste, hobbies become unimportant, life loses luster, only.... You ..  on their mind.. And only you can make them happy. 
That kind of dirty OBSESSION.
Now I will be giving you the power to choose whom you would like to do your work...
1... Lamashtu
2... Na'amah
3... Jinniyah (El Naddaha)
This is very very very very serious. Make sure you want this. 😏
To book Please contact via Instagram with purchase, photos, names, dob @whispers_of_the_dark_moon
 Note: I made this ritual. There is no other like it. Anywhere, only here. There are many who try and attempt to copy my rituals even down to the names, the quotes, the colors. But know this.... Nobody other than me, knows how to do my handmade personal "occult" rituals. Nobody. Not even my coven members know my personal "occult" Rituals (occult=hidden). However, we are three rituals are created individually. Meaning they themselves hold their own ritual privacy as well. But not even my students know my personal rituals. These are my private, personal workings. And there is no one who can replicate them at all. Or the We are Three Rituals, Anywhere. It's extremely dangerous to attempt to copy Rituals which you do not know anything about.