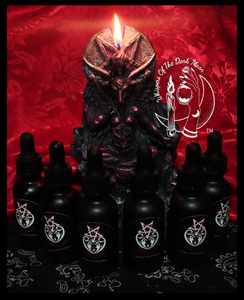 Demonic Manifestation Oil... 
The Goat™
Took me a while to get this one ready for you guys!! Months! 6 to be precise!!
This was even worked on Friday 13! And has my 6 year oil in it too! This is my special baby... 
Works with most demonic entities!!! For assistance in Ritual energy, both as beacon and a source of energy to help facilitate the workings contracts pacts and etc between you and the one you wish to contact. This is not an oil to take lightly. This is not a typical oil that you see online. This is Ritual oil. It is even made with pure organic olive oil. There has been all the stops pulled out in this one. 
DO NOT WEAR THIS AS PERFUME OR ETC. 
THIS HAS GOT THINGS INSIDE THAT YOU DO NOT WANT ON YOUR SKIN. THIS IS NOT INTENDED FOR SKIN WEAR. YOU DO NOT WANT TO BE A DEMONIC BEACON WALKING AROUND TOWN😳.
ONE OF THE INGREDIENTS WITHIN THIS OIL IS BLOOD. (NOT MINE) BUT THIS OIL HAS ELEMENTS OF BLOOD MAGICK WITHIN IT. AND THAT BEING SAID... THIS IS EXTREMELY POWERFUL AND SHOULD BE CAREFULLY USED. 
My little baby looks pretty but packs a huge punch. Use my baby with care. I've been planning this oil for a long long time now. 
The oil it's self is 6 Rituals. 
The oil took 6 months, 6 Rituals and has 6 year manifestation oil in it. 
Use it wisely. 
✨😈✨