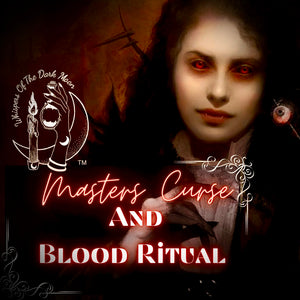 This Curse absolutely ruins a person takes away everything that brings them happiness and I mean everything.. it destroys a person within and without.., in every corner of their life.. in every corner of their inner self (yes I'm doing that). It turns their ancestors against them (oh yeah I can do that). It blinds their Angels (yes that's possible). It removes the connections to their guides (don't mess with the wrong ones 🤷🏼‍♀️). And if they have any ability, power, Ashe.. this suffocates it, binds it, hides it within maze within maze with demonic guards and watchmen and does this so strongly that they may never be able to gain that ability back again. (Ever) .
This is black magic.
This is dark.
There is no part of this ritual that will ever touch the ones asking for this.

The person you decide to add in this curse should be someone who has wronged you deeply and deserves every single minute of what's about to happen. This is not a curse for a small problem.
 This is just the link to pay.. please contact me on Instagram after payment @whispers_of_the_dark_moon
 do not copy this ritual in anyway
 this is not a joke this is not a game
 do not do it. You were warned 
DO NOT BOOK THIS WITHOUT PERMISSION OR I WILL TAKE THE MONEY AS A DONATION