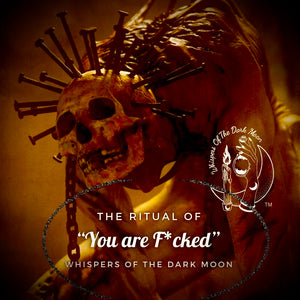 Oh this one....
This is what you all have been asking for again and again.  This is not a joke. This is a very serious curse. 
This curse 
1. Removes everything someone loves.
2. Removes everyone someone loves.
3. Removes all abundance prosperity and finance.
4. Removes health. 
5. Sends Legion to one specific person. Yes ... Legion. Yes ....
.. Legion. But a specific legion ..
Lucifer's Legion ! Hail Lucifer !!
6. After the person loses everything, and everyone this can lead to violent death, possession or suicide. 
*THIS IS NOT A RITUAL FOR THE WEAK OR THE ONES WHO DO NOT KNOW WHAT THEY WANT.
Two options 
A... Leading to suicide, violent death or possession
B... No Death No Suicide No Possession
Must contact me via Instagram
@whispers_of_the_dark_moon
this is dangerous and will harm your target … that means you will have to weigh this as it owed and you will have to explain to me your reasoning of this one …
What is Legion?
Legion is a entire damn mass of Demons. There are 6,666 Demons per legion. 72 princes  command legions totaling 7,405,926 underlings.
The legions are organized in military fashion, with ranks and specific duties assigned to each Demon.
Legion is every worst nightmare you ever had rolled into one huge mass and multiplied by fear disgust death and ruin.. 
*Some people are not to be played with*