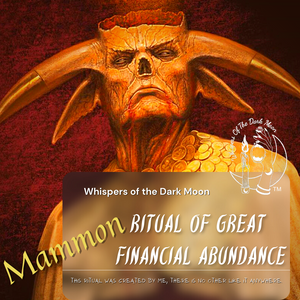 *~Mammon needs '0' introduction~*
Financial freedom, wealth, money, prosperity, business, $$$Gains, these are all areas in which you will find Mammon.
Mammon again NEEDS NO INTRODUCTION. 
Mammon is Material Wealth, The Golden one! 
Ritual of Financial Abundance literally encompasses all things material wealth. This ritual is cast upon request, and is cast in the hour of Jupiter. 
There is no need for any Petition here, this is my personal Ritual which I made years ago that I'm sharing with you guys. Everyone who books this ritual will fall under the same petition, Great Wealth. 
After paying, Must contact me through Instagram with name, dob, photo. 
@whispers_of_the_Dark_Moon
Know this, Mammon is 🚫 if you don't know what you're doing. Do not attempt to copy any Ritual you see on my pages without proper instruction, which you can only receive through classes. And even then my personal Rituals and Summonings are extremely private. DO NOT ATTEMPT TO COPY THIS. You have been warned.