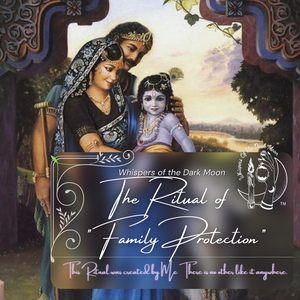 This Ritual is designed to protect your family. This ritual acts a wall against all that may harm the ones you love. 
I am working this in a loving way because this is for family. Working with love as the highest protection possible and the emotions, power, strength, ability, and energy within it. I am also working with Inanna and Hestia. 
I truly love doing these Rituals where I find people taking care of those they love. And seeing people at their best. The ritual is open to anyone. And you may book for others who are not your family but have families. Meaning you may book more than 1 time! 
I'm giving this my all, because if it's family.. that's what you're supposed to do. 
Must contact me after booking via Instagram @whispers_of_the_dark_moon
 ⛧Note: I made this ritual. There is no other like it. Anywhere, only here. There are many who try and attempt to copy my rituals even down to the names, the quotes, the colors. But know this.... Nobody other than me, knows how to do my handmade personal "occult" rituals. Nobody. Not even my coven members know my personal "occult" Rituals (occult=hidden). Not even my students. These are my private, personal workings. And there is no one who can replicate them at all. Anywhere. And it's extremely dangerous to attempt to copy Rituals which you do not know anything about.