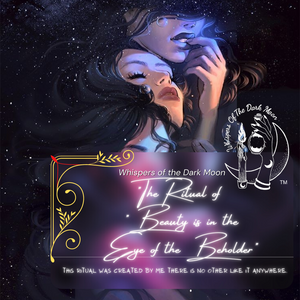 "Beauty is in the eye of the beholder," which means beauty doesn't exist on its own but is created by observers. This ritual does something very very unique😏.. It transforms the way others interpret you.. meaning, they see what they hold beautiful. You remain the same beautiful person that you are but you become a  better version of yourself and others see the qualities of your beauty that they find attractive... Very very very amplified. This is also a Weightloss for health ritual meaning this aspect was added to help enhance your results of you choose to involve Weightloss. Not everyone needs to lose weight after all. 
This ritual will be cast within 7 days of booking . And will be a very unique cast... 
If you wish to book please pay and contact me via Instagram @whispers_of_the_dark_moon
Options
A . With Weightloss
B. Without Weightloss
Note: I made this ritual. There is no other like it. Anywhere, only here. There are many who try and attempt to copy my rituals even down to the names, the quotes, the colors. But know this.... Nobody other than me, knows how to do my handmade personal "occult" rituals. Nobody. Not even my coven members know my personal "occult" Rituals (occult=hidden). However, we are three rituals are created individually. Meaning they themselves hold their own ritual privacy as well. But not even my students know my personal rituals. These are my private, personal workings. And there is no one who can replicate them at all. Or the We are Three Rituals, Anywhere. It's extremely dangerous to attempt to copy Rituals which you do not know anything about.