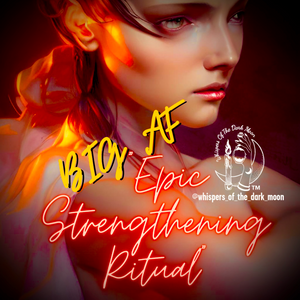 "Whispers of the Dark Moon" 
 is proud to present the Ritual of Epic Strengthening.
This ritual is for those who have existing problems that have had ritual work done, but hasn't seen the movement that they wish to see. Meaning people who are still waiting for manifestation, people who have cast rituals or spells recently, people who are just now casting rituals and want to strengthen the future ritual that they have booked, those who wish to add strength, power, and speed to their manifestation. 
I am very proud of this ritual, because it works with the good spirits that surround the client. Your protective spirits, your ancestors, and for some this can be deities demons and spirits of those who have past. This is far more than your ancestors. This is all the spirits, including your higher self. Your guides, your spirit animals, the spirits you work with, the entities you work with, the energies you work with… as long as they are positive. Meaning positive to you meaning, non-harmful to you meaning that they are helping you in your life in some form or another and on your path. These are the good spirits no matter where they come from. They are good to you.


So now you can see how powerful this ritual will be. Just from who will be working for you within it.


This is  only being done because a lot of my clients are going through a very difficult time and need extra help and this is the ritual to give that extra help to support them during this difficult time. I'm always here for my clients and always will be even when people think that I'm not I'm here… I got you. 
To book this just pay your energy exchange and send me a message to my telephone with your full name date of birth screen name on Instagram and a screenshot of your receipt. This ritual is big AF… I know it will help those who need it. And I hope everyone knows how much I care. 


This ritual will help almost any ritual that has been cast previously, or that will be cast in the future. This is not just a strengthening ritual.. this is a specific ritual that works with ur own entities and spirits and in turn makes this very strongly, I mean very, for the client (you). 
To the copycats :
I highly suggest that you never try to copy this type of ritual without understanding what is being done within, and you can only know that if you are part of my Coven, which is extremely limited places and private, so very doubtful that you will see just anyone doing this. or be able to do it by just looking at it. This is a warning!! A Ritual is not what you see in the photo, a ritual is what you don't see in the photo!! be smart. Don't hurt ur self!