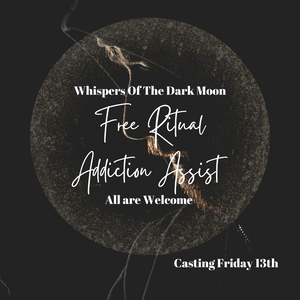 I am doing a addiction healing and assist ritual for anyone who wants to be a part of it period.
If you have any need for this ritual, you're welcome to be a part of it, whether you have finance or not.
This ritual is to help with any addiction, whether it be drugs, alcohol, people, emotions disorders or etc. 

How do you book? 
u contact me after booking this ritual with ur name dob and photo and a brief description of what the addiction is and that's it … nothing else ..
contact on instagram ! @whispers_of_the_dark_moon_
EVERYONE IS WELCOME
I only ask that those who have the ability to do a donation, donate for the cost of the ritual costs & supplies, which can be costly and those who don't you don't have to pay anything, there's nothing ask from you. This comes from your heart. If you do or don't . And if you can't .. that's cool too! 


how to donate : there's and option at the checkout if you feel you want too .. 
I hope this helps anyone and everyone who needs it !