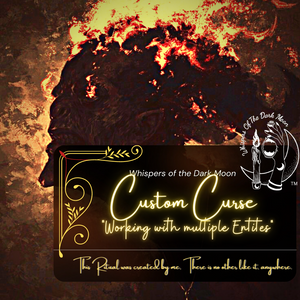 This should ONLY BE BOOKED AFTER CONSULT.
This is merely the link for payment🖤
If you have been told to book this please send receipt and info back to me ASAP by Instagram @whispers_of_the_dark_moon
 CURSES ARE DANGEROUS TO YOUR TARGETS
THIS WILL CAUSE SOME FORM OF HARM TO YOUR TARGET.
 EMOTIONAL, PHYSICAL, HEALTH, LIFE, GENERATIONAL, FINANCE, FAMILY, COURT, AND MANY OTHER AREAS....
CURSES ARE CALLED CURSES FOR GOOD REASON...