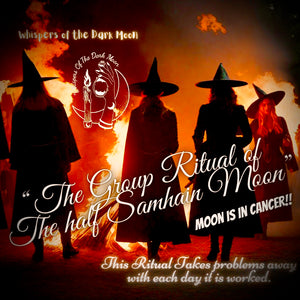 This is a Custom Group Booking during the time of veil thinning,  we will work with the half moon to Remove any problem block person wall or issue in your life! This means even work court relationship and etc… it will be cast in the power of three by the Coven of whispers ! All rituals will be custom and require no petition…  
We will each have our special way for this one!! Time to make our lives what we needs it to be !!! Change !! Change !! Change !!
This will be a first come first serve situation …And will be one of the largest rituals this month  To be cast Oct 21st
A special Focus will be on the 50% half Moon for energies that will come through to help the thinning neg of the veil and the removal of ur issues / problems etc! … 
This is limited … I cast only limited places on dusing Oct on all rituals .. 
To book Please contact via Instagram with purchase, photos, names, dob @whispers_of_the_dark_moon
 Note: I made this ritual. There is no other like it. Anywhere, only here. There are many who try and attempt to copy my rituals even down to the names, the quotes, the colors. But know this.... Nobody other than me, knows how to do my handmade personal "occult" rituals. Nobody. Not even my coven members know my personal "occult" Rituals (occult=hidden). However, we are three rituals are created individually. Meaning they themselves hold their own ritual privacy as well. But not even my students know my personal rituals. These are my private, personal workings. And there is no one who can replicate them at all. Or the We are Three Rituals, Anywhere. It's extremely dangerous to attempt to copy Rituals which you do not know anything about.