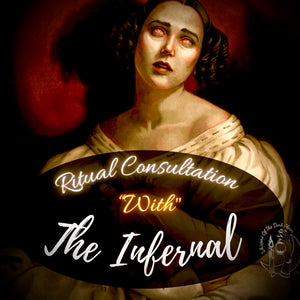 This is a consult with The Infernal, This consult to be very clear speaks with demonic entities and we receive assistance through this consult to find answers and what ritual would be best for your situation … this does not use tarot cards to read for you ! This is again much much more than that. This must be considered with respect as well as the answers given are coming from THE INFERNAL  themselves. This is a special consult that if it's meant for you … then you will know. Book according to intuition. There are many forms of consultation. Please look through them all. However if this rings your intuition, then know this is takes prep and is a summoning/evoking/etc … the simplest way to say this is … I open the door for the entities and seek answers while the door is open. Afterwards the door is closed and you receive your answers. This is again not the same as a tarot consult …. 
This consult is a Social Media consult consisting of a brief description of your situation your specific 5 questions you need answers on, then we will discuss possible ways spellwork could assist you. This is as always first come first serve.
There are 3 options..
1. Instagram
2. Whatsapp
3. Facebook
This service is only offered when available and will be announced on Instagram and Facebook. Otherwise requires booking. I will answer you within 24-48 hours to book. 
As for all first come first serve ..
1. Screen shot your receipt.
2. Send the receipt to me via Instagram. 
3. When your turn comes up you will be contacted. As this offer is first come first serve. But I do aim to book if possible … 
Please send your info via Instagram @whispers_of_the_dark_moon along with a receipt, or screenshot of your payment. I will answer you within 24/48 hours to book you.  
*if over booking occurs your booking may be delayed. Although rare. It can happen. 
All Hail the Infernal.