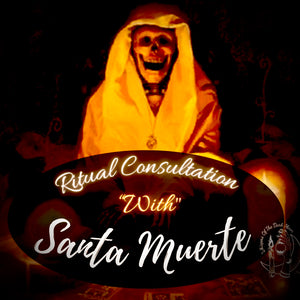 The consult that speaks with Santa Muerte … and myself of course to help you determine your needs. 
This consult is a Social Media consult consisting of a in-depth description of your situation a consult with Santa Muerte where we will discuss possible ways she can assist you. This is a usually done within 1-7 days, but can vary due to booking.  And as always first come first serve. I aim to get these done asap always.
There are 3 options..
1. Instagram
2. Whatsapp
3. Facebook
This service is only offered when available and will be announced on Instagram and Facebook. Otherwise requires booking. I will answer you asap to book you. 
As for all first come first serve ..
1. Screen shot your receipt.
2. Send the receipt to me via the Instagram.
3. When your turn comes up you will be contacted. As this offer is first come first serve.
Please send your info via Instagram @whispers_of_the_dark_moon along with a receipt, or screenshot of your payment and how you would like to proceed by call or email. I will answer you within 24/48 hours to book you.  
*if over booking occurs your booking may be delayed. Although rare. It can happen. 
Blessings.