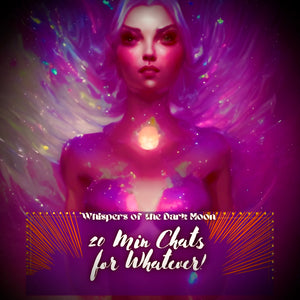 This is a service that is offered to clear up info if needed.

This is Your time .. how you use it is up to you … but know that this is very strict on 20 minutes means 20 minutes … This is amazing for quick things!! Like info on rituals! Or quick 3 question readings! Or need a min to just talk and vent! Maybe you feel lost a bit and need clarification or just need to hear my voice to calm yourself …
trust me I know every situation exists with this need.
 Please be considerate of booking times and understand first come…. First served.., 
to book please reach out to me via instagram @whispers_of_the_dark_moon with receipt name dob and photo.
when ur 20 min is over no matter if middle of etc etc we have to end the call loves ..