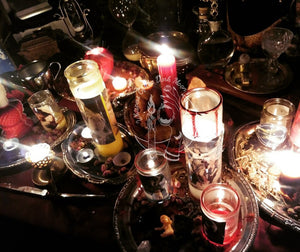 This is a service offered openly to anyone who wants to add abundance and prosperity to their lives. This spell is an amazing chance to bring money luck good happy things to your life.. this spell will be cast for you using your full name, dob, and a photo. this is all necessary to continue the work. which you will need to send to the following instagram @whispers_of_the_dark_moon
once booked please send all information needed and a photo of your payment receipt. 
I will then cast asap but times vary due to schedule …
a photo will be posted or shared to stories in insta & to you of your casting which is a 1 day spell. And will finish by the following day ... 
blessings lovelies 
Note: I made this ritual. There is no other like it. Anywhere, only here. There are many who try and attempt to copy my rituals even down to the names, the quotes, the colors. But know this.... Nobody other than me, knows how to do my handmade personal "occult" rituals. Nobody. Not even my coven members know my personal "occult" Rituals (occult=hidden). Not even my students. These are my private, personal workings. And there is no one who can replicate them at all. Anywhere. And it's extremely dangerous to attempt to copy Rituals which you do not know anything about.