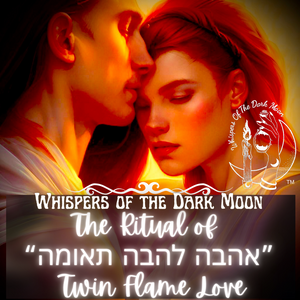 I am proud to present the Ritual of Twin Flame Love or "אהבה להבה תאומה". This ritual delivers the sensitive emotional loving charming flirtatious sweet kind generous (even sugar daddy generous) sexually yearning heart beating faster butterflies in stomach feelings that you would only find in your twin flame love! (This ritual can bring you your twin flame as well.)
This isn't a ritual that turns a soul mate into a twin flame lol no no .. this is a ritual that gives you the emotions you yearn for from the person you want it from… I normally aim ritual workings at darker areas like obsession which I really like doing lol but I often skip over the beautiful parts of love that make you feel like you 15 again running in the rain type feelings that you only experience in just pure divine love. I want to bring that to you again ! lol ———>one way or another! 
I will be working with "He who shall not be named" mmmhmm.. that's right … big daddy ! 
the rituals aim and point to happy real amazing lasting- True love! Emotion ppl!! Feelings!! Shared!! Laughter!! I want to make ppl show them teeth and smile from the heart!!